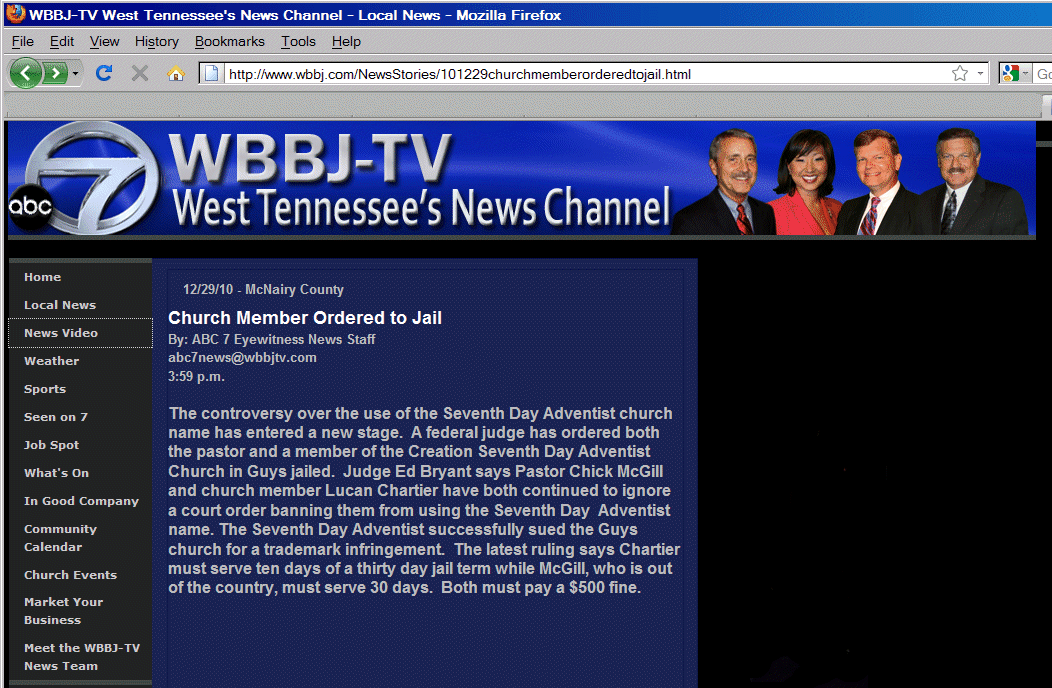 ---
Letters Section
---
November 12, 2012: Joel Galanter Formal Letter to Walter McGill
November 23, 2012: Walter McGill response to November 12, 2012 Letter from Joel Galanter
Subpoena Correspondence: Joel Galanter and Lucan Chartier
August 2012Open Letter to General Conference President, Ted N. C. Wilson from Pastor Walter "Chick" McGill
July 30, 2012Letter of Appreciation from Center for Adventist Research
An Open Letter to the General Conference of Seventh-day Adventists
March 3, 2012:Letter to Pastor "Chick" from Kisoro Uganda
My Open Letter to Ted N. C. Wilson, President, General Conference of Seventh-day Adventists
Second Letter from General Conference Attorney Announcing Church Sign Take-down at the Guys, TN church house
July 2012 Letter to General Conference President from SDA Church Member
April 24, 2007: Letter from Creation 7th Day Adventists to the Seventh-day Adventist Church Members
---
Related Links and Archives
---
An Open Letter to the General Conference of Seventh-day Adventists
May 15, 2012 Pastor McGill Answers the General Conference Communications Department's point of view published in the Independent Appeal.
WALTER MCGILL and the Creation Seventh Day Adventist Church HOAX WEBSITE
The Spiritual State of "Babylon Fallen"
Read Victims of Policy by Dr. David Aguilar, and/or listen to the Realplayer audio version.
General Conference "Damage Control 2010"--An attempt at justifying the violation of God's Law via "Corporate Image" Policy View article with comments included.
Read Pastor Walter "Chick" McGill's Story
Seventh-day Adventist Church Found Wanting
The McGill Trademark Lawsuit: SDA v. CSDA
Pastor "Chick's" Final Answer to the General Conference of SDA lead attorney RE compliance with the District Court injunction
The Writings of Pastor "Chick" McGill
My Final Chapter: An Exposition of Last Day Events
Forbes Magazine declares the Pope to be "highest earthly authority" for one-sixth of the world's population.
My Open Letter to Ted N. C. Wilson, President, General Conference of Seventh-day Adventists
---
Legal Documentation and News
Complete SDA Trademark File at USPTO
July 13, 2012 McGill arrested in California just prior to a planned news conference at which he intended to turn himself in. Currently held in San Bernadino Detention Center.
May 2, 2012 District Court Judge Breen orders incarceration for Chartier and McGill by the U. S. Marshals Service.
April, 2012 District Court Judge Breen orders contempt for Chartier and McGill with sanctions of federal fines and jail time.
March 8, 2011 District Court Judge Breen orders contempt for Chartier and McGill.
February 18, 2011 General Conference responds to Defendant's objections to the Dec. 23rd Report & Recommendation.
January 11, 2011 Defendant's Objection to Magistrate Judge's Report was filed, and Lucan Chartier's Objection was also filed with the Court.
January 7, 2011 Defendant's Objections (for exhibit) to Magistrate Judge Bryant's Report
December 23, 2010 Magistrate Judge Bryant filed his Report and Recommendation for contempt charges.
Pastor McGill and Lucan Chartier are to receive fines and jail time.
November 9, 2010: Cert. Filed In Seventh Day Adventist Case: Does RFRA Apply To Suits Between Private Parties?
Adventist Review: "A Victory for Religious Freedom"
The SDA Church was a major supporter of the RFRA bill in 1992-93. Will the General Conference reverse the original position in Gen. Conf. v. McGill?
October 20, 2010: Motion for Contempt
View picture of the repainted church sign at the Guys, TN church house here.
FINAL DECISION OF THE 6TH CIRCUIT COURT OF APPEALS
Second Letter from General Conference Attorney Announcing Church Sign Take-down at the Guys, TN church house
Magistrate Judge's Report on May 25th Contempt Hearing
Complete version of Defendant's Appellant Brief filed with the 6th Circuit of Appeals
Condensed version of Appellant Brief filed August 17, 2009
Defendant's Response to Plaintiffs' Motion for Default
Defendant's Objection to Magistrate's Report and Recommendation
Lucan Chartier's response to General Conference demand for deposition
General Conference Attorney's response to Lucan Chartier
Lucan Chartier's response to General Conference attorney
2009: Proposed Contempt Order submitted to Magistrate Judge Bryant by General Conference attorney
January 7, 2008: McGill Response to General Conference Motion for Summary Judgment
January 7, 2008: Affidavit of Russel E. Kelly
---
Historic SDA Trademark Records
Trademark Folder SECTION I: SDA TRADEMARK RELATED DOCUMENTS:
* General Principles
* Magazine and Newspaper Articles
* Lawsuit Correspondence from G.C to other Independent SDA Ministries(Since 1988)
* Replies from SDA Independent Ministries
* Lawsuits Correspondence from G.C to Creation 7th Day Adventists
Trademark Folder SECTION II: SDA TRADEMARK Registered Internationally and Protected by Civil Power
* SDA Trademarks Registered in other countries of the World
Trademark Folder SECTION III: WRITTEN COMUNICATIONS and REPLIES
From: Creation 7th Day Adventists
To: General Conference Lawyers and Elders & Other Independent Ministries
---
Miscellaneous Pictures and Information